THE BENEFITS OF ONSITE TRAINING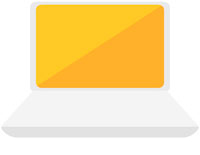 Conducting training on your company premises or in your own home is a popular, cost effective option with many organisations and individuals today.
The convenience of familiar locations and surroundings can make a training day very easy. Your staff are still contactable in emergencies and can gain easy access to their own data if required.
Offsite Training?
If you are an individual or you have a small group
and onsite training is not an option, please
contact us for more information
Contact us regarding your Onsite Training Needs
ONSITE TRAINING REQUIREMENTS
If you are an individual, all you need is a
computer and a quiet place
A meeting room, unused office space
or other quiet area
Laptops or movable desktops
with the appropriate software loaded
Provision to load training course files
via USB Thumb Drive or Internet download
If you don't have a data projector,
SLMCT can provide one for the day(s)
A flip chart or white board
would be desirable but not essential